Brian Roberts Sponsorship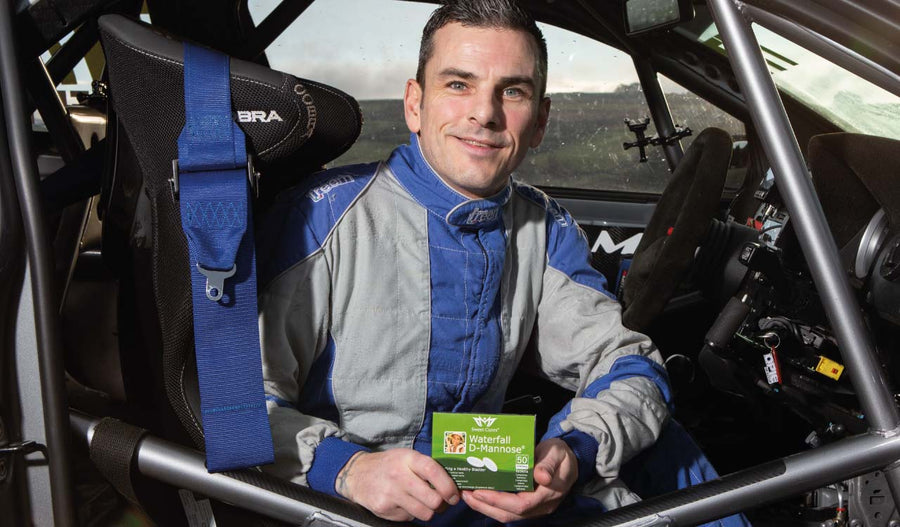 Wheelchair-bound Brian Roberts, who was left without the use of his legs following a road traffic accident, is championing natural supplement Waterfall D-Mannose, claiming it transformed his life.
The Welsh sportsman and racing driver who represented Great Britain and Wales in bobsledding and badminton said he would never have been able to achieve these goals without this natural supplement for relief from urinary tract infections.
Needing to catheterise four times a day following the accident over 20 years ago, Brian suffered from frequent UTIs leaving him bed-bound for days. Unable to get on with his life and feeling fed up with going to the doctors to be prescribed antibiotics, Brian turned to a natural food supplement - Waterfall D-Mannose.
Waterfall D-Mannose, produced by UK based company Sweet Cures, is a monosaccharide derived from birch. It supports all-around bladder health for men and women and can be used long term as a preventative measure and shorter-term for immediate support.
Bladder Health UK, the largest bladder patient support charity in the UK, say that "Waterfall D-Mannose helps to prevent and treat gram-negative urinary tract infection such as E-Coli by stopping the bacteria from attaching to the bladder walls. For those with chronic or recurrent infection it is a useful supplement to take."
Waterfall D-Mannose user, Brian Roberts, said: "Because of Waterfall D-Mannose, I was able to pursue my sporting dreams in racing, karting, para-badminton, bobsledding and even represent my country.
"Being an active sportsperson, I found it mentally and physically damaging to be bed bound for days with frequent UTIs and antibiotics were not the right solution for me.
"I wouldn't have been able to be a World Record Holder without the help of Waterfall D-Mannose. It truly turned my life around and I can't understate its benefits. It should be seriously considered by anyone suffering from recurring UTI.
"My advice to anyone struggling with their health is just keep trying. Keep doing your research and you may find products, services and people that can change your life.
"I'm so thankful for my own personal experiences and feel passionate about helping others too. Recently I've set up a new driving school in Norfork, UK called Raceability Motorsport - for disabled adults who want to experience a track day. I realised that there were no available cars for disabled drivers looking to give track days a go. It's a true passion of mine to be able to share these experiences with the disabled community."
Dave Smith, Director of Design and Marketing at Sweet Cures said:
"We're delighted to offer a food supplement which is natural, pure and most importantly offers hope and relief to thousands of customers across the globe."
"Waterfall D-Mannose is life-changing for many of our customers and it's a privilege for us to be involved with so many positive personal health journeys.
"UTIs are not only an issue for women but men too. Especially those like Brian who need to catheterise.
"We hope to work with our partners and customers to generate more awareness of the scale of the problem.
"Whilst Waterfall D-Mannose has shown positive results for so many of our customers, we'd always advise anyone who is thinking of changing their diet or looking to use food supplements to speak to a medical professional first."
For more information about Waterfall D-Mannose
For more information about Raceability Motorsport, visit https://www.facebook.com/raceabilitymotorsport/
For more information about Bladder Health UK, visit https://bladderhealthuk.org/
For further information contact:
Jodi Smith, PR Senior Account Manager
Gardiner Richardson
Share This