Work Experience with Career Ready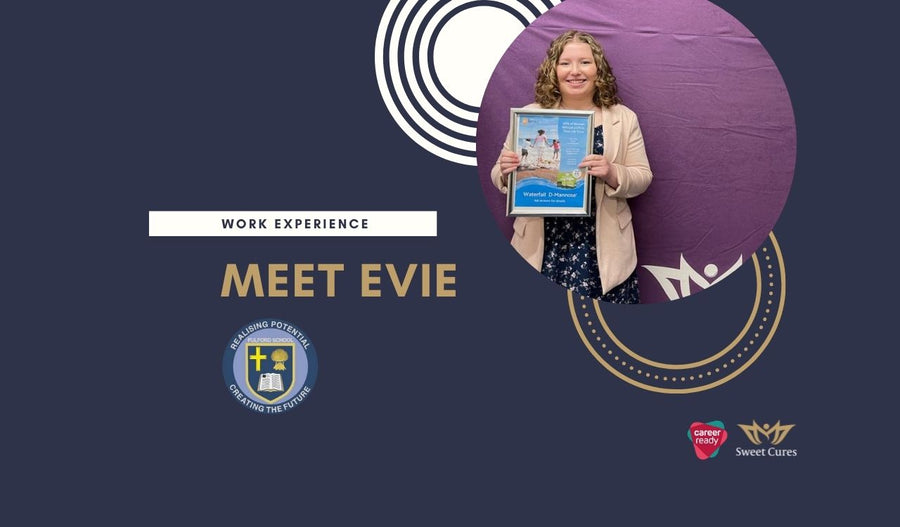 For the first time in Sweet Cures' 20-year history, we opened the doors to offer our first work experience placement with Career Ready.
Career Ready is a national charity that supports young people from all over the UK to find valuable work experience. Work experience allows young people to develop new skills, grow confidence and discover the right career path.
The Placement / Meet Evie
Evie joined Sweet Cures for a week-long placement which commenced on the 26th of July 2021. Evie, who is currently studying for her A-Levels at Fulford School, was a little nervous on the first day - but quickly settled. Over the week, it was a fantastic experience for the team at Sweet Cures to watch Evie grow in confidence both socially and with her design work.
By the end of the week, she'd completed a poster design that we intend to print and use for our traders. And she'd created a prototype design for a fictional product - Waterfall D-Mannose - For Her. The team was amazed by the quality of Evie's work, even more so when you consider she'd never used Adobe Illustrator until joining us.
We'd like to wish Evie all the best with her studies and hope she'll rejoin the team one day.
Taking Part / Finding Work Experience
If you are studying at secondary school or for your A-Levels and would like to find work experience or mentoring in your area, please get in touch with the Career Ready team.
Sweet Cures will be running another work experience position next summer with Career Ready - for more information, please get in touch with Career Ready on the above details.
Mission - Give Back
Over the last 20 years, Sweet Cures has supported charities such as Bladder Health UK, IDAS, Cancer Research, to name a few. This year and in the years that follow, we have even bigger plans to support the charities and communities who have supported us over the years.
We are delighted to announce two 8-week internships, one with York St John University and another with the University of York, as part of this mission. We encourage anyone interested in internships to contact your campus careers office. Further details are also available on our careers page.
Special Thanks
We'd also like to thank;
Louise Saw from Made it York. Louise highlighted work experience, internships and connected the business with so many like-minded professionals.
Karen from Career Ready. Karen guides and supports businesses in setting up work placements programs.
Amanda from Fulford School. Amanda supported Evie during the initial meetings with Sweet Cures and throughout the placement.
Share This