Urinalysis Tests
Urine testing kits are a key part to a urinalysis examination and are suitable for men, women and pets. Home testing kits allow daily monitoring to quickly detect and manage a wide range of disorders.
Save £5 when bought with D-Mannose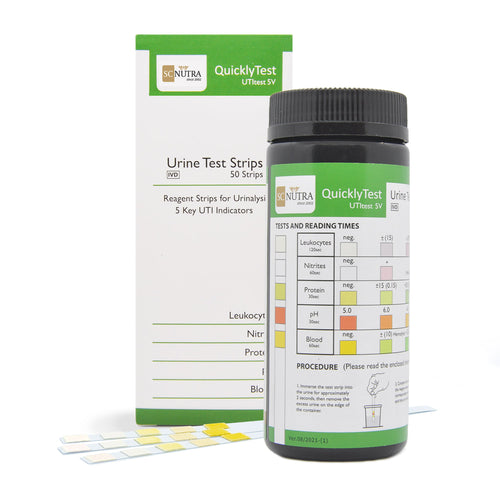 Save £5 when bought with D-Mannose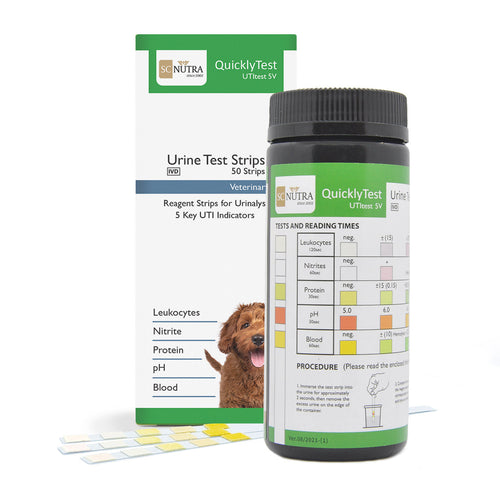 Frequently Asked Questions
To effectively use urine test strips, follow these general steps:
Collect a fresh urine sample in a clean and dry container. Ensure that the container is free from contaminants to obtain accurate results.
Remove a urine test strip from its packaging, taking care not to touch the reagent areas with your fingers. Dip the strip into the urine sample, making sure to immerse all the reagent pads on the strip for a few seconds.
Gently remove the strip from the urine and shake off any excess liquid.
Place the strip on a clean and dry surface and wait for the designated time, usually, a few seconds to a minute, as specified in the instructions provided with the test strips. After the appropriate waiting period, compare the colour changes on the reagent pads with the reference chart provided. Match the pad colours to the corresponding values on the chart to interpret the results accurately.
Urine test strips are diagnostic tools that provide valuable information about various aspects of bladder health. While there are urine tests that involve numerous reagents, Quickly Test UTI5V strips offer a quick and simplified assessment by focusing on five primary reagents associated with bladder health. These reagents include Leukocytes, Nitrites, Protein, pH, and Blood. By analysing these key components, Quickly Test UTI5V urine test strips help establish the overall condition of the bladder. For example, Leukocytes are indicative of potential infections, while Nitrites can signal the presence of bacteria. Protein levels can reflect kidney function, pH levels indicate urine acidity, and the detection of blood may suggest underlying issues. By focusing on these five primary reagents, test strips streamline the process of evaluating bladder health.

For a more detailed explanation, please view the product pages.
While there are some differences between urine test strips for humans and dogs, they share many similarities in their composition and purpose. Both test strips are designed to analyse urine samples and provide valuable health information. However, the results obtained from the test strips can vary between humans and dogs. For instance, the pH level of a dog's urine would typically be lower than that of a human. This variation is due to differences in metabolism, diet, and other physiological factors between the two species. Therefore, while the test strips themselves may be similar, it is essential to interpret the results within the context of the specific species being tested to ensure accurate assessments of health.
Yes, urine test strips are readily available and don't need to be purchased over the counter or need a prescription. They can be obtained from various sources, such as pharmacies, medical supply stores, and online retailers, such as ourselves. When purchasing, look for a product that is registered as an IVD medical device.

These test strips are commonly used for a range of purposes, including monitoring overall health, detecting specific conditions, and assessing various parameters in urine samples. They are typically sold in packs containing multiple strips and may come with instructions on how to use them effectively.
Urine test strips are generally considered to be reliable and provide a valuable initial assessment of various parameters in urine samples. However, it's important to note that the accuracy of urine test strips can vary depending on several factors. The quality and brand of the test strips, as well as proper storage and handling, can influence their accuracy. Additionally, user errors, such as incorrect interpretation or inadequate sample collection, can impact the reliability of the results.
Urine test strips should be stored properly to maintain their effectiveness and accuracy. It is generally recommended to store them in a cool, dry place away from direct sunlight and extreme temperatures. Exposure to moisture, heat, or light can degrade the reagents on the strips and affect their reliability. Keeping the test strips in their original packaging is important, ensuring it is tightly sealed after each use to prevent moisture or air from entering. Additionally, check the expiration date of the test strips before use and discard any expired ones. By storing urine test strips in optimal conditions and following the manufacturer's guidelines, you can help ensure their longevity and accuracy when conducting urine tests.
If you have more questions about our products, contact our team at 01904 789559 or by email at our contact page.