Hull 10k to raise over £660 for Bladder Health UK & raise awareness for hypospadias.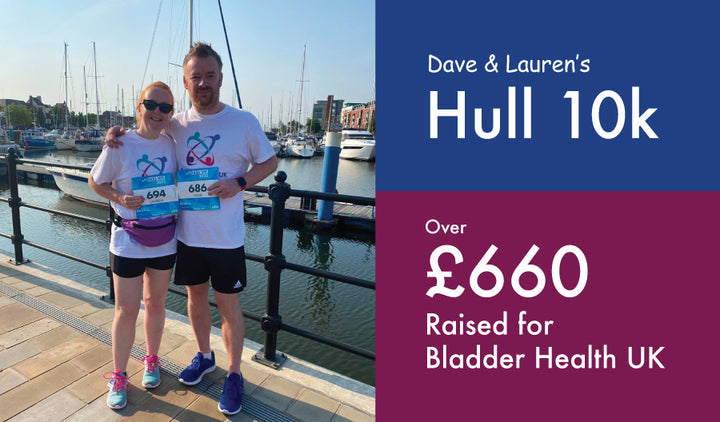 On the 11 of June 2023, our Design & Marketing Director, Dave and his wife, Lauren, took part in the Hull 10k, intending to raise £300 for Bladder Health UK. 
The pair chose Bladder Health UK after turning to the charity personally for their son, who was born with hypospadias. While Bladder Health UK doesn't specialise in pediatric support, the team is well-connected and happy to provide information about dedicated charities and medical professionals who could potentially help. 
The support started their son's journey into corrective surgery; we're pleased to report the surgery went well, and he's since fully recovered from the operation, although he may need further operations in the coming years.
Dave & Lauren achieved a fantastic time of 1hr 6mins and raised over £660 for Bladder Health UK.
We caught up with Dave, who said the following;
"I worked in the natural health sector for over 14 years and spoke to thousands of individuals with bladder-related problems. In my personal life, my daughter regularly suffers from UTIs, and my son was born with hypospadias. If you'd asked years ago if bladder health would be a daily subject in my life - I wouldn't have believed you! But the truth is that many people struggle with bladder-related conditions, and likewise, hypospadias is also more common than you'd expect, with 1 in 200 babies born with it. 
We decided to raise money for Bladder Health UK. I've seen first-hand what the charity offers those suffering from bladder-related illnesses such as cystitis, interstitial cystitis/bladder pain syndrome, fowlers syndrome, overactive bladder and continence issues. When we also considered the kind support and advice for our son, we had a simple decision in choosing who we would raise money for. 
We also want to say a big thank you to everyone who sponsored us, even more so this year. With the current cost of living crisis - we were staggered to raise the amount we have - so thank you!" 
Share This